Conductor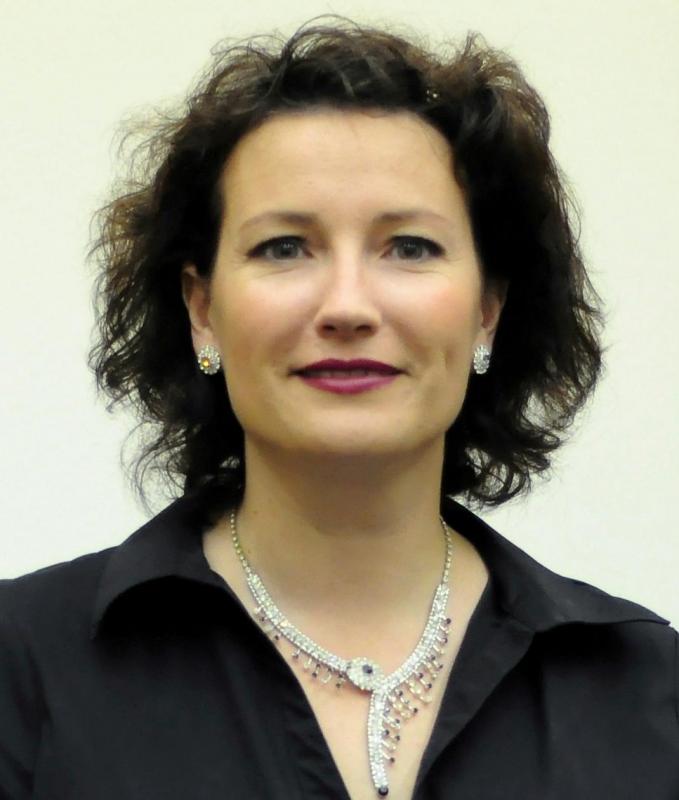 Trained by Charles LILAMAND, Nadine WRIGHT, Jean-Claude HENRIOT and Serge ZAPOLSKY, France DESNEULIN obtains the Certificate of Aptitude for Accompaniment, the State Diploma of Piano and the State Diploma of Accompaniment.
She has since performed in numerous recitals both in France and abroad (Scotland, Spain, the West Indies, Morocco, Tunisia, China, Japan...), alongside artists such as O.CHARLIER, M.PORTAL, M.PIKETTY, N.CORTI, F.GNIERI, P.BERROD, J.BEAUDIMENT, G. COPPOLA ...
Ministry of Culture, Bordeaux National Orchestra Aquitaine, Pau Orchestra, National Orchestra of the Loire Countries, Music Competition International of OSAKA, ask her to accompany many prestigious competitions.
She is regularly invited to perform with the National Orchestra of Bordeaux Aquitaine, conducted by Paul DANIEL.
She accompanies, among others, the master classes of Rachel YAKAR, Michel PORTAL, Anne GASTINEL, Martin FROST, Nicole CORTI, Marie CHARVET, Jacques TYS ... She has performed with artists such as Marianne PIKETTY, Michel TRANCHANT, Philippe BERROD, Guillaume COPPOLA, Olivier CHARLIER, Françoise GNIERI, and many singers such as Jean DELESCLUSES, Thomas BETTINGER, Aude EXTREMO, Maryse CASTETS, Stanislas DE BARBEYRAC, Edwin CROSSLEY MERCER, Thomas DOLIE...
After teaching at several Conservatories in the french Far West, she was recruited in 2005 by the National Conservatory of BORDEAUX as a pianist for the upper classes. She is an accompanist pianist at the Higher Music Centre of Aquitaine, conducted by Laurent GIGNOUX.
As a vocal conductor, she directed numerous productions, co-directed alongside Xavier VITON, for 15 years, the PRIMA VOCE Lyric Company.
As a logical follow-up to her job as a vocal conductor, in 2002, she approached conducting with Dominique ROUITS, then trained with Marc TRAUTMANN. She was thus entrusted with the direction of several lyrical works: "The wedding to the Lanterns" by OFFENBACH, "Api Apple" by OFFENBACH, "the Child and the spells" by RAVEL, "La Cambiale di matrimonio" by ROSSINI, or "Dido and Arée" by PURCELL.
Pianist, saxophonist, she is also an actress ("Les Chaises" by IONESCO – "Festival OFF d'Avignon" 2003, "The Story of Carmen" by GIRAUD - tour 1999).
She founded the FRANCE EN SCENES Company in 2007, for which she wrote and directed more than 20 musical performances. A seasoned and passionate teacher, she inaugurated in 2014 "THE SALON DES ARTS", "An Hour with a Composer", a season of concerts highlighting the greatest composers, associated with another art. The "SALON DES ARTS" collaborates with "Château Pape Clément", the Louvre School, the National School of Architecture and Landscape, the Aerocampus, the Air Force, Villa 88, etc.
Passionate about tango, she founded the ensemble "PASSION TANGO" in 2003 and invited bandoneonists Lysandre DONOSO, Per Arn GLORVIGEN or Gilberto PEREYRA. A tour in ARGENTINE in November 2019 with the "Ensemble Vocal HEMIOLE", led by Michèle LHOPITEAU, brings her back to the land of her forefathers.
A pianist of heart and choir since her beginnings, she accompanies multiple vocal ensembles, including the "Ensemble Vocal d'Aquitaine" conducted by Eliane LAVAIL from 2007 to 2012, and the Vocal HEMIOLE ensemble.
Michèle LHOPITEAU and the choristers propose to her to take over as choirmaster of the Ensemble Vocal HEMIOLE in the fall of 2020. This is yet another challenge for France DESNEULIN, which is proposing, for the 2020/2021 season, an American program, associated with the MERIGNAC Air Force Orchestra, led by Colonel Patrice AUNEAU.