Program 2008
Charity concerts "Restos du coeur"
Sunday, november, 23 - St Pierre Es Liens church in Villamblard (Dordogne) - concert caritatif au profit des Restos du cœur
First part, by Ensemble Vocal "Hémiole" :
Duo « wir eilen » by J.S. Bach
"La notte del Santo Natale" by Rossini (baryton solo : Patrick Torney)
"Messe Brève en sib majeur" K 275 by W.A. Mozart (accompagnée par le trio à cordes professionnel "le Mascaret"
Second part : by chorale "Chantemonde" de Villamblard :
some "chants du monde"
"Autour de Montaigne"
Sunday, september, 21 – old church of Mérignac (Gironde)
Spectacle musico-littéraire « Autour de Montaigne », dans le cadre des journées du patrimoine.
De Monteverdi à Ravel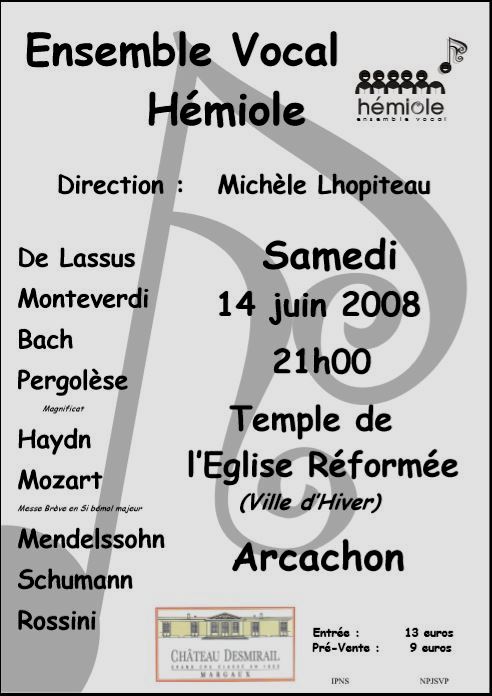 Saturday, june, 14 - temple in Arcachon (Gironde)
and Friday, june, 6 - Lanton church (Gironde)
Diverses œuvres et extraits de Francisco Durante, Pergolèse, Roland de Lassus, Claudio Monteverdi, Jean-Sébastien Bach, Joseph Haydn et W.A. Mozart, Félix Mendelssohn, Robert Schumann et Gioacchino Rossini.
Clavier : Alice Béhague
Violoncelle : Lili Gautier
"Autour de Montaigne"