Program 2011
Charity concerts : "Bach and Dvorak"
Sunday, july, 3 – Guîtres abbay (Gironde) - free concert -
and Wednesday, july, 29 - St Seurin basilica in Bordeaux (Gironde) - concert caritatif -
« Bach/ Dvorak », en collaboration avec l'« Ensemble Vocal de Périgueux »
Direction : Michèle Lhopiteau et Geneviève Brun
Orgue : Stéphane Trébuchet
Mezzo-soprano : Caroline Gy
Violon : Yves Tastet.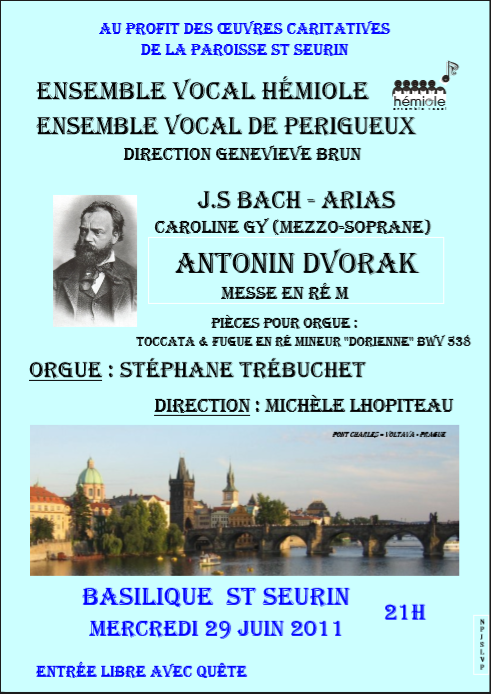 La flûte enchantée
Saturday, june, 25 – Saint-Jean church in Libourne (Gironde)
Chœurs de la "Flûte enchantée " de Mozart
sous la direction de Bruno Ricaud et avec les solistes d'Opéra Bastide.
"Soirée musique française"
---
Saturday, april, 2 - Gontaud de Nogaret (Lot et Garonne)
Musique française : même programme que le concert du 16 octobre 2010
Baryton solo : Frédéric Serrano
Soprano solo : Anne Gégout-Petit
Direction Michèle Lhopiteau